I stayed in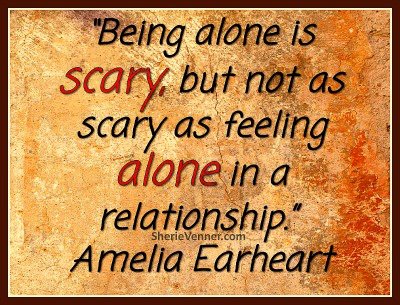 my first marriage too long. I was afraid to leave because I had a fear of being alone.
So I stayed, even though I knew it was better for both of us to make that clean break. It took more time than it should have to leave…
"Being alone is scary, but not as scary as feeling alone in a relationship."― Amelia Earhart
When You Stay in a Relationship That Doesn't Work
If you are staying in a relationship that doesn't work…and you've tried it all to repair it…you don't have core values in common…there has been an issue that couldn't be resolved…then what are you saying to yourself about your own value?
When you are in that kind of relationship, you can actually feel more alone…more disconnected…than you might feel when you are actually alone. When the Fear wins, you lose. Fear of being alone and staying in a broken relationship make it difficult to:
Create the future that you want
Have a healthy self-esteem
Feel what real love is
Be happy
Be fulfilled
Respect yourself
Being in a relationship can be part of our identity…how we identify ourselves, even though it is a role in our life…not who we really are. When the day finally came when I made that decision to end my first marriage, I wasn't sure who I would be when I was no longer a wife.
That night, after the moving out was done…I remember being in my room in the dark…being afraid of what the next step was…a part of me glad that I was moving forward and another part of me being terrified…and wondering if I could undo that decision.
And yet…if I hadn't made that decision, the life that I have now wouldn't have happened. I wouldn't have met my husband, Shane…or had my son, Will…and so…even though it was a hard decision, it was a right decision…that led to a life so much better than one I could even have imagined.
Afraid of Being Alone Forever?
It might seem like that…and if you choose to be alone forever…then, that is a choice…I know that there were points that night when I thought that I needed to take him back…when I thought "How am I going to raise the kids" and "Oh my God…I am alone"…and I really, really felt the depths of that loneliness.
So ask yourself…what is the worst thing that could possibly happen? Would it be so terrible being alone…even if it is only for a while? I learned a lot about myself while I was alone…for that period of time when I was just by myself…so take advantage of that time…and find out who you are…and repair the relationship that you have with yourself.
Being Alone is an Opportunity to Heal Yourself
If you have a relationship with yourself, you never really are alone…you might not be in an intimate relationship with another person but if you take the time to heal the relationship with yourself, you will never FEEL alone.
And isn't that what we all want? To feel connected with ourselves…to feel that we are enough…all on our own.
Take the lessons from that relationship that you let go of…now or in the past…and see what you needed to learn…what was it? Was there more than one lesson in that relationship? Take those learnings and use them to create that new future.
Being alone is a beautiful opportunity to take care of yourself. Take the time to heal. Do the internal work. Let go of the negative beliefs. And see yourself happy…in that new life…even if you are alone…and let go of any fear of being alone…because you never really are…are you?
"Drive your own life…you deserve to, don't you?" Sherie Venner
The following two tabs change content below.
Sherie
I am a Relationship Coach who helps others create happy, healthy, loving relationships…including the relationship they have with themselves…by breaking through those blocks and barriers to success. I use various techniques gathered through training as a Master Practitioner of NLP, timeline, hypnosis and common sense gathered through life experience.