Have you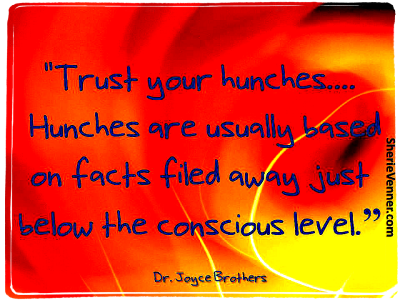 ever had  gut feelings…even a simple hunch…and you didn't follow it…and then ended up regretting it?
I was in the grocery store the other day. I had my little list clenched in my hand and I was going up and down the aisles…stocking my cart with the items on that list.
I passed by the ketchup as I was reaching for the mustard that was on the list. I thought to myself "I should pick some of that up"…then I thought, no, we must have another bottle in the pantry.
Now, I had just reorganized the pantry…I had taken everything out, cleaned out the shelves, put like items with like in baskets…so I thought that there must have been a bottle of ketchup there.
You can probably guess at what happened next, right? I didn't get the ketchup…and when I got home and started putting all those groceries away…I kept an eye out for that telltale bottle of red tomato ketchup…
It wasn't there. In fact…the bottle in the fridge was on its last legs, as well. There was enough for a day…maybe two. In our family, we like one particular brand and it is only at our local Superstore. Strangely enough, we don't like the big brand. LOL
So, it became necessary to make another trip to that store…simply because I didn't pay attention to that tiny niggling gut feeling. Now, that is an inconvenience, but it isn't that serious, right?
Is it Gut Feelings, a Hunch… or is it a Red Flag?
What if you are in a relationship…and you have a feeling…a little stirring in your gut… that something is wrong? It might not be a simple matter of intuition…it might actually be a red flag that those gut feelings are pointing to…that there is real problem.
Here are some examples of huge red flags:
There is name calling and when you call them on it, they say they are just joking
You feel like you are being ignored, even when you have clearly communicated a need for more interaction
Your opinion is shot down, often even before you open your mouth
You are the only one who gives in the relationship and the other person does a lot of taking, especially financially and/or emotionally
You want to continue in a relationship with your family and they put up roadblocks, such as blaming your family for your relationship problems
Your activities are restricted…and they need to know where you are at all times
When you are in a relationship where any of these behaviors occur, you might not be able to see them…even if friends and family point them out to you. In fact, you might resent that your friends and family have the nerve to even bring this up to you.
However, deep down inside…there probably is a niggling…a hunch if you will…a gut feeling…that something just isn't right…
You need to look at that…and look at the behaviors…step back and see if there is any truth in what your family and friends are telling you…what do you see?
If you are upping the use of alcohol, drugs (prescription or other), overeating or overspending or any other self- medicating activity, there is an issue that you are trying to hide from. Bring it out in the open…because only then…when you face that dragon…can you begin to fix the issue and heal…
"Trust your hunches…. Hunches are usually based on facts filed away just below the conscious level." Dr. Joyce Brothers
When you have those gut feelings…listen if there is a thought that accompanies them…make a mental note of that thought…and ask yourself "What is the underlying message here? Is there one?"…because it might just be fear of stepping outside of our comfort zone…and that is very different…isn't it?
Gut feelings can be big…gut feelings can be small…whatever it is…pay attention to the meaning that is underneath that hunch…it may save you an extra trip to the grocery store…or it may save you a massive amount of heartache…it really is up to you…isn't it? So pay attention and see what those gut feelings, those tiny stirrings of intuition are trying to tell you…
"Drive your own life…you deserve to, don't you?" Sherie Venner
The following two tabs change content below.
Sherie
I am a Relationship Coach who helps others create happy, healthy, loving relationships…including the relationship they have with themselves…by breaking through those blocks and barriers to success. I use various techniques gathered through training as a Master Practitioner of NLP, timeline, hypnosis and common sense gathered through life experience.