Laughter and relationships.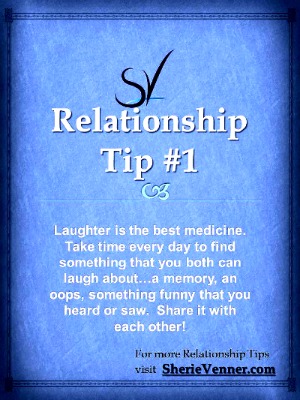 Yes. It is a concept that we tend to forget is important. Because…after all…if you are an adult and you are in a "serious" relationship…well then…there isn't a lot of room for fun, is there?
Relationship Tips. #1: Laughter is the best medicine. Take time every day to find something that you both can laugh about…a memory, an oops, something funny that you heard or saw. Share it with each other!
Here is one of my favorite laughter quotes:
"A good laugh overcomes more difficulties and dissipates more dark clouds than any other one thing." – Laura Ingalls Wilder. Tweet this!
When you think about it…if you actually say that you are in a "serious" relationship, what are you telling that unconscious mind of yours? Are you telling your unconscious mind that it isn't a good thing to be light hearted and have a joy filled relationship? Be careful…your unconscious mind listens to your words…
No wonder so many people find it hard to enjoy their spouse or partner once they tie the knot. They literally give up the idea that they can have fun. Dating was fun and filled with laughter. Being single was fun and filled with laughter. Think about it…sometimes, it just takes a simple change of perspective to make that turn around.
Letting the Laughter into Your Relationship
If laughter is the best medicine, in your life and in your relationships…you have to let it in so that it can do it's work, don't you? Here are some simple steps to make that Relationship Tips #1 work:
Smile at each other. With the hassle and routines of daily life (and if you add children to that mix…well…oh my…), this one is so easy to forget. Make it a rule that you drop your days baggage at the door when you come home and smile at each other, first thing. You can talk about problems later. For now, when you see the person you love, remember what you love about them…and smile.
Keep a mental note of the happenings of the day that were funny. Share those things. It might be as simple as seeing a video on the internet of a cat doing silly moves. In that case, you can email each other during the day and share your thoughts when you get home.
Tickle each other. Play with each other. Laughing has so many benefits. It gives you a rosy flush and you naturally bring in more oxygen to your lungs.
Watch a comedy together. If you have a favorite scene in a movie, talk about it.
Share a fun activity. Make the everyday things fun as well as the special events (like vacations). Yes, you can be playful when you put the dishes away…really…
Laughter is contagious. Once one partner starts genuinely laughing at something funny, it spreads…you've been there haven't you…when you don't find it terribly funny and your partner starts to laugh…and you can't help yourself…before you know it…there is so much laughter in the room…and it feels SO good…doesn't it?
What Would Happen if You Really Had More Laughter in Your Relationship?
Ask yourself that question and see what comes up…laughter can cement bonds in relationships. If you are in the middle of a conflict and you do something unexpected that will make your partner laugh (something that is not disrespectful to them), it can break a negative stuck state. Make sure that your partner does not think that you are laughing at them. That doesn't work…at all…
Laughter and relationships are a good mix, if it is done right…if you are laughing together and enjoying the time you spend with each other, you will strengthen your relationship. Seriously…give it a try… and let me know what happens…stay tuned…I'll be writing about more relationship tips, soon!
And remember this…"A day without laughter is like a day without sunshine and a day without sunshine is like … night." Steve Martin
"Drive your own life…you deserve to, don't you?" Sherie Venner
The following two tabs change content below.
Sherie
I am a Relationship Coach who helps others create happy, healthy, loving relationships…including the relationship they have with themselves…by breaking through those blocks and barriers to success. I use various techniques gathered through training as a Master Practitioner of NLP, timeline, hypnosis and common sense gathered through life experience.