Do you have difficulty settingl boundaries in your relationships? Perhaps you think it is normal to merge with the other person, to become as one. It is a common myth.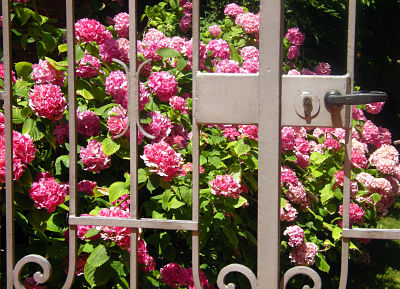 "Respect yourself if you would have others respect you." Balthazar Gracian
What Can Happen in Relationships without Personal Boundaries?
Financial problems
Fidelity issues
Violence and physical abuse
Low self esteem
Emotional abuse
Doubt, fear, anger and other negative emotions
Co-dependence
Lack of maturity
Do all of these happen in all relationships without personal boundaries? No…not necessarily…and the degree to which they can happen are very much effected by different factors…
How does Setting Boundaries Protect You?
When you are a person with healthy boundaries, there are certain behaviors that you just don't tolerate. You have certain expectations from other people. Here are a few of the expectations that a person with healthy boundaries has.
An expectation of personal safety when in relationship, emotionally and physically

An expectation of mutual respect

An expectation of love and loyalty

An expectation of having the relationship honored, financially, physically, emotionally
So let's look at a practical example. Charlene is a woman who is in a relationship with a man that she has been dating for 6 months. John keeps her waiting for him when they have arranged to meet. He doesn't phone or text to say that he is going to be late.
He keeps her waiting for an hour and does it on a regular basis, with no valid excuse (like a flat tire). It just doesn't occur to him that she would be worried or that it would be inconvenient to her. That is a lack of respect.
John also has a terrible habit of using sarcasm when he is talking to Charlene. He gets angry and although he has not hit her, has thrown some of her ceramic figurines against the wall and broken them.
Even though Charlene thinks that because they have a lot of common interests, they are a good match, she is wrong. John does not treat her with respect. If his anger ever got out of control, there is a chance that he would be violent to her.
Charlene has inadvertently let this bad behavior continue by allowing it to. She has not set firm personal boundaries and said "No, that isn't acceptable". If she had solid personal boundaries, she would protect herself emotionally and physically.
There is an old expression…."Give them an inch and they will take a mile" and that applies to boundaries, too. If you aren't firm in your boundaries, and you give an inch, some people will continue to push at the soft boundaries you have, until they push them all the way back. The thing is, you have to let them do that…they are your boundaries, after all, aren't they?
What Comes First in Setting Boundaries?
Know who you really are. When you have a clear picture in your mind of who you are and how valuable you are, whether in relationship or not, you won't accept bad behavior.

Know that you deserve to actually have personal boundaries. Everybody does, you know.

Know that your feelings are just as important as the feelings of the other person.

Know that it is okay to say no…not just for the sake of saying no…but if you feel like a personal boundary is being crossed, step back and say no.

Know that, even if you are in partnership with the other, you are a separate individual, responsible for your own life…as they are responsible for their own…
It can be hard for others to accept that you are setting limits especially if you have let them get away with bad behavior in the past. Be patient and set limits anyway. If there is a true bond of love, your partner will be okay with it, eventually, and your bond will grow. If they aren't okay with you setting personal boundaries…well then… that is another story, isn't it?
A relationship is a meeting of equals who love and respect each other. If you don't have personal boundaries that your partner respects, your relationship is in trouble. If you take responsibility for their behavior, you deprive them of the opportunity to grow, to own their own lives so that they can learn.
There is an image and a stereotype of romantic love that is put forth by Hollywood and the movie makers. It isn't real. In order for a real relationship to succeed, both people need to know who they are and have personal boundaries. Then, they can work together as two powerful individuals to create a real relationship, one that actually works.
"Drive your own life…you deserve to, don't you?" Sherie Venner
The following two tabs change content below.
Sherie
I am a Relationship Coach who helps others create happy, healthy, loving relationships…including the relationship they have with themselves…by breaking through those blocks and barriers to success. I use various techniques gathered through training as a Master Practitioner of NLP, timeline, hypnosis and common sense gathered through life experience.