This week, I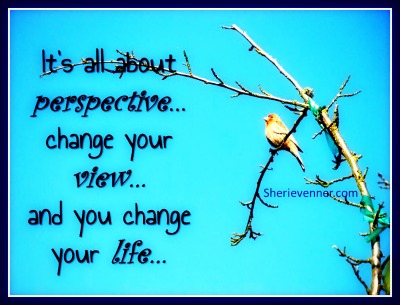 needed a perspective tune up. Yep. That's right. I have been feeling very sad about the fact that my oldest daughter, Jennifer and my four grandbabies (one on the way, too) are moving to Nova Scotia.
Changing my Perspective
Because I have all of this experience with NLP, visualization, and changing thought patterns doesn't mean that I'm perfect at it. : D I still get moments when I need to look back and see what I've seen. I need to see what it means to me.
Today, we are going out to see Jennifer and the girls. It is time to say goodbye as they venture out into their new life. I was feeling SO sad and then I had this thought…
It's not a bad thing. Whoa. What? It's not a bad thing. From my perspective, I was just thinking about how much I was going to miss them all. I was sad that I wasn't going to be able to jump into a car and be able to see my grandbabies, play with them….hug them….and then…
Where is the Joy in that Perspective?
It's nowhere. NO Where….it's not ANY where…so where is it?
Hiding in assumptions…I have made an assumption about how things are going to be instead of looking at the reality of it. In other words, I had a picture in my mind of what this move would mean to me…I created a negative picture based on the assumptions that I was making.
Sadness
Fear of what the future would hold without them
Despair and lack
Worry
Anxiety
So, if I am the person who created the negative picture in my head about the move…then I am the person who can create a different picture in my head, right? Yes. That's right…and so I did…
"There are no facts, only interpretations." ― Friedrich Nietzsche  Tweet this!
A Changed Outlook and Perspective
In that AHA moment that I had, sitting at my desk in my office, getting ready to write a much different post…and I can still get to that different post later…and I will…just wait…
I realized these few things…
My grandchildren and daughter are embarking on an adventure.
They are getting a marvelous opportunity to live mortgage free.
There is so much for them all to learn on this journey.
It's all good.
I will have a great place to vacation!
I will still see them because of the wonderful blessing of Skype.
We live in a time of cheap, safe air travel. Yay!
Changing your Perspective and Outlook
You can, you know. Is there an event in your life that you are dreading because you are imagining it to be one way? I ask you this…"What would happen if you looked at it from a different view point…that's right…what would happen if you changed the way you were looking at it?" See what happens…you might be surprised…I know that I was…
So, today, when I say goodbye to my grandbabies, I will be sad in the moment, because that is the reality of it…but underneath that sadness, there will be the joy in the adventure that their mom and dad are taking them on…and because I trust in there being a bigger reason than the ones I can see…this will be for the best…in the long run…and nothing will change how I feel about them…that love will always be there…whether they are here or 5000 miles way…because that is just the way it is…and look…at all those possibilities…
Even if things didn't turn out the way you initially thought they would, doesn't mean that the new change is bad…it's just different…and if you change your perspective, you can see the good…because it was always there…waiting for you to see it…just like that…
"Drive your own life…you deserve to, don't you?" Sherie Venner
The following two tabs change content below.
Sherie
I am a Relationship Coach who helps others create happy, healthy, loving relationships…including the relationship they have with themselves…by breaking through those blocks and barriers to success. I use various techniques gathered through training as a Master Practitioner of NLP, timeline, hypnosis and common sense gathered through life experience.