Does it feel like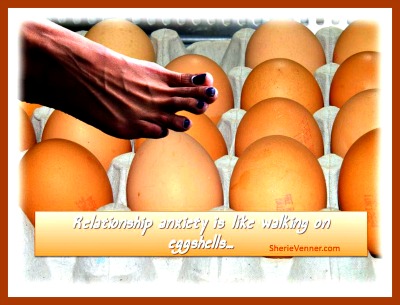 you are "walking on eggshells"…tiptoeing through a mine field of relationship anxiety? If you would rather be "walking on sunshine" (that is such a great song!), then it is time for a change…isn't it?
I have a friend who has relationship anxiety. She doesn't want to have relationship anxiety. In fact, she would rather be able to look forward to having a relationship filled with love, joy and peace.
Instead, when she even thinks about looking for a relationship, she gets cold sweats, her heart starts to thump, she can hear the blood rushing through her veins…and she begins to panic.
What Does Relationship Anxiety Feel Like?
It can feel like it does for my friend…and it can feel like walking on egg shells. When you feel like you are walking on egg shells, you are always on the watch for the words that you speak.
You examine the actions that you take under a microscope. You are hyper aware of everything that you do. There is no comfort in the relationship that you have or are trying to achieve.
There is that underlying anxiety that colors every mood and activity and there seems to be no end to it.I like to think of it as a state of constant tension and being in a state of high alert, almost like alarm bells are going off.
Imagine trying to speak to someone, waiting for the right words to come out and you come up with nothing…or even worse, you croak out a wonderful mishmash of words, a word salad that just sits there in front of you, shaming you…and that is the problem. Attached to the anxiety are other emotions, such as shame, guilt and fear.
The pictures that flash in front of your eyes are not ones of a fantasy filled happily ever after life…no…they are of all of the things that can go wrong.
Where Does Relationship Anxiety Come From?
It can happen to anybody and it is more common than you think. Relationship anxiety comes from unrealistic expectations, set by family, friends, society or the media. It stems from limiting beliefs of not being good enough or deserving. It has its beginnings in low self-esteem. For some people, it starts in previous relationships that were abusive or filled with shame.
When you think of relationships and have relationship anxiety, you think differently than people who don't have it. The pictures that flash in front of your eyes are not ones of a fun filled happily ever after life…no…they are of all of the things that can go wrong. Your imagination is powerful. No matter what the origins of that relationship anxiety, it can be terrifying.
Whether you are getting back into the world of relationships because of a divorce, a break up, or even if you are a total newbie at it…it doesn't need to be filled with anxiety.
Focus on what you want…not on what you don't want…Tweet this!

Dealing with Relationship Anxiety
When you have made the decision that you have had enough…then you can start to move forward.
So, here are the first steps:
Focus on what you really want, not on what you fear or don't want
Make a decision…like I deserve to have a relationship and I will…
Believe that it is possible…
Give yourself a break…don't be so critical of yourself…
Have reasonable expectations
Realize that the world is a safe place…yes…stuff can happen…and you need to be aware…but this belief will help you to move forward…in faith…
Breathe…deeply…that will help your brain to calm down…really…
Look out to that future…with that fabulous relationship…and then look back to now…and see all the steps fall into place…so that you can have it…
If you have relationship anxiety, these simple steps are the first steps on the road…and there are more…but these are a good beginning.
When you have made the decision to have relationships that don't require you to be "walking on eggshells", you can have just that…wonderful relationships… free of relationship anxiety…happy…amazing…incredible…just like that…
The next post is titled  3 Types of Relationship Anxiety…and if you want to know…sooner rather than later, when it is published…please join me…there is a form underneath the post or in the sidebar… and I will let you know…: D
"Drive your own life…you deserve to, don't you?" Sherie Venner
The following two tabs change content below.
Sherie
I am a Relationship Coach who helps others create happy, healthy, loving relationships…including the relationship they have with themselves…by breaking through those blocks and barriers to success. I use various techniques gathered through training as a Master Practitioner of NLP, timeline, hypnosis and common sense gathered through life experience.