You know…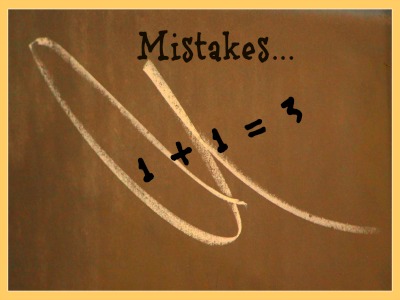 we all have the experience of making mistakes…some of them big…some of them small…and you know what I learned? Making mistakes can be the quickest path to learning something…and yet we are all so afraid to do that…to make a mistake.
What I Know About Making Mistakes
Wow. I made a big mistake when I married for the first time at a very young and naïve 19 years old. As I stood outside the church building that we were to be married in, the thoughts that ran through my head were these:
"I've got to get out of here"
"I'm making a mistake"
"What will people think if I don't go through with this?"
I wanted to turn around and leave…but I didn't …because I was worried about:
What would other people think?
I would be breaking a promise to marry him (and that is what an engagement is…a promise)
These doubts and fears were just cold feet.
All men make mistakes, but only wise men learn from their mistakes. – Winston Churchill
Here is What I Learned to Survive Making Mistakes
It doesn't matter what other people think, it matters what you think. Other people will understand because everyone has made a mistake and if they don't…oh well…next…
Some promises are made to be broken. Not all promises should be made in the first place. We all make mistakes, some of us more than others. We think things will turn out one wayand the results are not what we thought they would be. That's just life. I don't have an accurate crystal ball…do you? : D
You must listen to your gut feeling, your intuition. If you think that there is a problem, there is one…and the problem might not be the real problem…it might be a red herring because you aren't ready to face the real reason. Still…pay attention…your unconscious mind is trying to get through to you. Be honest with yourself. Your gut intuition is that small voice that lets you know that something is not quite right, even if you can't quite put your finger on it.
When You've Recognized that You are Making Mistakes or a Mistake
Do yourself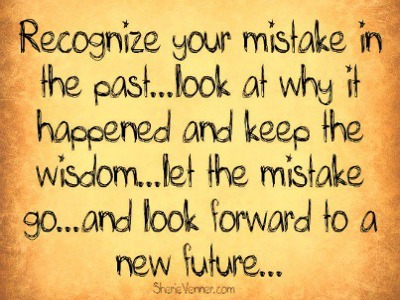 a favour and STOP making the mistake…because we all make mistakes…and you can learn from that mistake and move on…because there is something better waiting out there…isn't there?
Forgive yourself for making mistakes. The only way to let it go and learn from it, is to forgive yourself first.
Realize that most of the mistakes you made or are making are not disasters. Be grateful because it could have been worse.
Recognize your mistake in the past…look at why it happened and keep the wisdom…let the mistake go…and look forward to a new future…because you can…
And the shocking truth is that once we have learned from that mistake…it can often have been the path of our greatest learning…really…
And when I married my second husband and the officiator was late to the wedding, my thought was "Oh my, we are going to have to have the party today and get married tomorrow if he doesn't show up."…and that my friends, is where the difference is…and he did eventually show up…that day. . .and we've been happily married for 16+ years…: D
"Drive your own life…you deserve to, don't you?" Sherie Venner
The following two tabs change content below.
Sherie
I am a Relationship Coach who helps others create happy, healthy, loving relationships…including the relationship they have with themselves…by breaking through those blocks and barriers to success. I use various techniques gathered through training as a Master Practitioner of NLP, timeline, hypnosis and common sense gathered through life experience.