Is your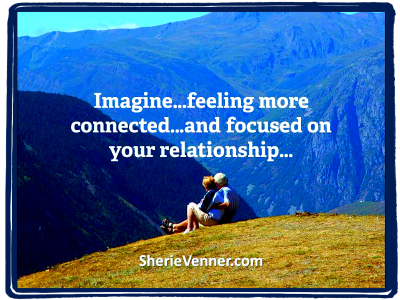 relationship
suffering from lack of focus?
Does it feel scattered? Does your relationship feel like it has a life of its own and if it were a person, it would be diagnosed with attention deficit disorder?
Before I had children, I was extremely focused. When they came along, I swear that my memory was horrible, I had a hard time focusing on tasks and it took a long time to get ordinary chores done.
Partly, it was because of the lack of sleep.
Most of it, though, was due to interruptions. The phone would ring (constantly), there were trips back and forth to school, there were meetings, play dates, my job, dropping the kids off at sports events, meals to be made…the list goes on and on…
The same factors affect our relationships, don't they…being so busy…that there is no time or priority given to your relationships…with children…with family…or with your partner.
Getting Laser Focused on Your Relationship
Let's say you have made a decision to spend some time with your significant other. You go out to dinner at a good restaurant. If you want a boost in your connection level, do this to minimize distractions and interruptions:
Stop multitasking…no…when you are on the phone putting out fires at work while having dinner with your sweetheart…that is not quality time, is it?
Stop texting. Whoever is on the end of your phone can wait. If you are having a conversation with someone, ignore the sound of a text coming in. There is no rule that says that texts need to be answered immediately.
Stop scrolling through your social media. That's right. Yes…social media plays a BIG part in our life today and I am grateful for the connection that it provides with all my friends/family/clients that live miles away. However, there is a time and a place for social media.
Stop checking your email. It's the same idea as no texting, isn't it? Have a regular time for doing that; schedule it for a time when you're not with your sweetheart.
Stop talking about the kids. Find a common interest that you can talk about and you could even talk about what you appreciate about each other.
Your relationship deserves to have boundaries to protect it, just like you have boundaries…if a relationship is not nurtured and protected, it will falter….
Relationship Connections Are Made These 7 Ways
So, I have given you a laundry list of what not to do…what can you do to feel more connected?
Look into each other's eyes.
Touch/hug. Even the brief touch of fingertips across a table is a way of connecting. We all need touch.
Smile at each other. Laugh with each other.
Share a 6 second kiss with each other, daily.
Text, email or phone each other throughout the day, but not when you're sitting across the table from each other. ; )
Walk together.
Share what you are grateful for. I know a couple who write down 5 things they are grateful for in a journal each evening…and then they share that with each other. It is a beautiful experience because that gratitude sheds its light on your relationship…
There is a great reward in slowing down and allowing yourself to focus on your relationship…to feel more connected to your partner…you can have that…if you have the basics there…love…shared values…then it is easy to get that laser focus back…and feel those feelings again…
"Drive your own life…you deserve to, don't you?" Sherie Venner
The following two tabs change content below.
Sherie
I am a Relationship Coach who helps others create happy, healthy, loving relationships…including the relationship they have with themselves…by breaking through those blocks and barriers to success. I use various techniques gathered through training as a Master Practitioner of NLP, timeline, hypnosis and common sense gathered through life experience.