I had an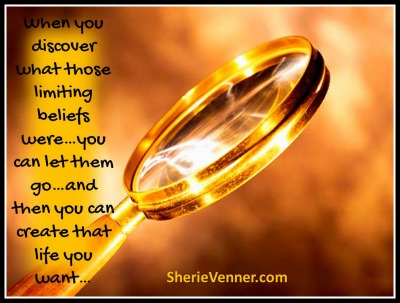 interesting question on a comment last week from Tess. She asked "I am wondering how to tell what your limiting beliefs are?".
My reply to Tess was this…
"Tess, that is a very good question and I think that it would be a good idea to write a post about that, since the answer can be complex. For a lot of people it can be simple to determine what the limiting belief is.
For example, notice the language that you are using. Actually listen. Have you ever noticed people who say "Oh, I'm just stupid" when they've made a mistake. They say that in a highly charged emotional moment. Now, from there, you can "guess" what the limiting belief is.
However, for a lot of people, if there is an issue that is deep, the unconscious mind keeps the real limiting belief hidden and it often takes some work to uncover what the root cause of problems is.
Especially if there has been a highly charged emotional event that caused the limiting belief in the beginning. Does that make sense to you? So, there are questions that can be asked, starting with what the problem is…and moving through different levels…down…to the root cause. Once the root cause is determined, then it can be eliminated."
One of the Ways to Discover What Limiting Beliefs are Holding You Back
As I mentioned in my reply to Tess, it can sometimes be very simple. You just know what the limiting belief is. ..and for some people…they even know what caused it. But what if you don't?
If you have already discovered what your values are…and you take a good look at your life…and see if the life you live is aligned with those core values. If for example, one of your core values is family and a close relationship…and you don't have that…then, you need to ask some questions to see why you haven't allowed that into your life…yet.
Look at your values (freedom, family, finances, loyalty, trust, love, etc.)
What do you want? What exactly?
Why do you want it?
Do you REALLY want it?
If the answer is yes….then…
Imagine having it…what does it look like…what does it feel like…what does it sound like….
Then double that…make the picture brighter and bigger, the sounds louder and clearer, the feelings stronger and deeper….
THEN…..what happens next? Watch for this…it can be tricky…
Is there a voice that you hear inside of your mind saying something like "No, you can't do/have/be that…" or another negative statement? Or is there a thought…or is there a feeling of no…
What is that? Look/listen/feel what thoughts come up…usually, that is the limiting belief.
What Does a Limiting Belief Look Like?
A limiting belief usually comes in the form of an identity level statement…such as "I AM ______________". Fill in the blanks…not worthy…worthless…helpless…unlovable…a loser…a failure…there is no end to what a limiting belief can be, is there?
And here is the thing…you don't need to keep any of those limiting negative beliefs because they are lies…they are a LIE-ability…that's right…
Even though those limiting beliefs lie hidden from us…the other than conscious mind really wants the best for us…and so if you have a limiting belief or maybe more than one ; D, usually the purpose behind it is to protect you, in some way…even if it doesn't really…
So when you are ready to discover those limiting beliefs…you can…and they can go…you can let them go…can't you? As I mentioned to Tess, sometimes, when there is a trauma or a big negative event, the unconscious mind doesn't reveal what those limiting beliefs are easily…
If you give this exercise a go, it should work for those limiting beliefs that are close to the surface. For other beliefs, the deeply rooted hidden ones…well…they might need a bit of a helping hand to be brought to life…in a safe place…
"Drive your own life…you deserve to, don't you?" Sherie Venner
P.S. Special thanks to Tess for her courage in asking this question!
The following two tabs change content below.
Sherie
I am a Relationship Coach who helps others create happy, healthy, loving relationships…including the relationship they have with themselves…by breaking through those blocks and barriers to success. I use various techniques gathered through training as a Master Practitioner of NLP, timeline, hypnosis and common sense gathered through life experience.