Has there eve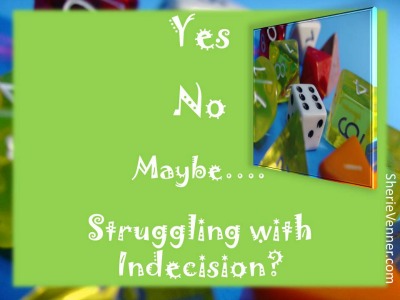 r been a time when you were faced with indecision…when it was really difficult to make that decision…
Who can struggle with indecision? Everybody. That's right. Everybody can be indecisive at one point or another…about something big or something small. Some decisions are hard to make. For some people, making any kind of decision is hard. For most of us though, the hardest decisions can cause the biggest delays…just because there is so much emotion attached to making that decision.
"Decision is a sharp knife that cuts clean and straight; indecision, a dull one that hacks and tears and leaves ragged edges behind it."- Gordon Graham
What Does Indecision Look Like?
It doesn't matter how important the decision is to be made. It could be a major life decision about where to live or who to marry or what career to pursue. It could be making a decision about what color to paint your living room or what to have for supper. The problem occurs when there is a delay in making that decision…when being indecisive keeps a person being stuck.
Being indecisive can look like this:
Procrastinating, stalling, and pushing deadlines further into the future…more than once…
Making other tasks a priority…I know that when I am being indecisive, there is a lot of house cleaning that gets done!
Clutter, emotional and in your physical environment. Clutter is just a delayed decision, isn't it? When there is clutter, there is indecision…whether to keep it, toss it, or make a place for it…
Having This Mindset Breeds Indecision
Looking for guarantees. If you are looking for a guaranteed outcome, life doesn't work that way. Most of the decisions that we make involve not knowing exactly what the future holds. There is no crystal ball saying that if you make decision x, then decision y is the only outcome that can happen. We don't always know all the variables, do we?
Not having a plan B. Even if your plan B is just sketched out a napkin in pencil, as you are sitting in a coffee shop, it can give a measure of comfort. It gives you another option in case the first plan (decision A), doesn't work out. It doesn't need to be extremely detailed…just knowing that it's there can make the process of decision making easier.
Not trusting yourself. Have some faith in your ability to handle the consequences of the decisions that you make. Do as much planning as you can beforehand. Do your fact finding. Be prepared and then make a decision.
Not forgiving yourself if you have made mistakes in the past about previous decisions. No one is perfect…really…
Feeling insignificant. If you feel insignificant, it can make making a decision almost impossible. If you knew…deep down inside…just how important you really, really are…making a decision would be so much easier.
Clarity Statements When Faced with Indecision
Indecision can be messy. Life is messy…sometimes…it isn't as cut and dried as we think it should be. So if you find yourself or maybe a loved one in a position where a decision needs to be made, here are some statements that when answered can make a choice much clearer…
And I call this "Measuring the Gap" between what you want and what you got:
What I thought I wanted:
What I actually got:
What I really want:
Here is a pdf of those statements for you to print out and fill in…if you would like…
Indecision happens because we need to make a choice…usually, we aren't starting from a clear slate. There are so many factors to consider.
If you are looking at a room that you have and it's painted a dusky rose that you picked out…look at that color and say"What I thought I wanted_____________"…maybe it was a peaceful, calming atmosphere in that room. Then "What I actually got__________"…a color that didn't work…a color that was too grey and a little moody…then "What I really want__________"…a cheerful, bright color that looks like sunshine on a cloudy day….that suits me and my personality…
The more specific that you get, the easier the decision is to make. There are, of course, other steps in the decision making process…this is just a part of the equation…but sometimes it is enough…try this one out…start with a simple decision that you have been perfecting the art of indecision on…and see what happens…it's just a different way of looking at it, isn't it?
And think about this…what if not making a decision was a decision…all by itself…
"Drive your own life…you deserve to, don't you?" Sherie Venner
The following two tabs change content below.
Sherie
I am a Relationship Coach who helps others create happy, healthy, loving relationships…including the relationship they have with themselves…by breaking through those blocks and barriers to success. I use various techniques gathered through training as a Master Practitioner of NLP, timeline, hypnosis and common sense gathered through life experience.