Everybody has problems.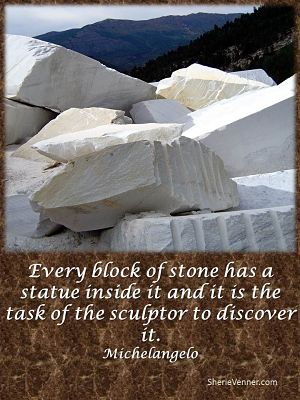 Everybody wishes that their life was better. Everybody could have had a better childhood.
Does everybody feel that they are broken? No…absolutely not…
If you have been struggling with these feelings:
Of depression
Of anxiety
Of shame
Of guilt
Of anger
Of self-pity
…then it is no wonder that you have been feeling broken. Anyone would. The question to ask here, though, is it helping you? Is that feeling of being broken getting in the way of being happy and having the life you want? The chances are…the answer is yes.
Breaking Rocks for Real



I was a geologist in my youth. I did exploration geology. What that means, is that every summer, I was dropped off in Northern Alberta. We camped in isolated areas and we explored. I usually got lost because I was terrible with a compass. : D
One of my jobs was to venture out and collect rock samples. I carried a small prospector's hammer for that purpose. When we came to an outcropping that we needed to take a sample of, out came my trusty hammer. I would bang away at that stone and try and get a sample.
It was hard. Sparks and bits of rock flew off as I hammered and hammered. I could work up quite a sweat. There is a lot of granite, a very hard stone, in Northern Manitoba. You know, rocks that didn't have cracks in them were the hardest to get samples from. The rock outcroppings that had cracks…man, they fell apart and those samples were so easy to get…
When you release negative beliefs (no matter what technique you use), you develop cracks…and its gets easier to free yourself from that negative belief system…just like those rock outcroppings that were so easy to get samples from.
One of my favorite quotes is this one from Michelangelo:
Every block of stone has a statue inside it and it is the task of the sculptor to discover it. Click here to tweet this!

When You are Done with Feeling Broken
Here is a five step process that will make it easier for you to let go of feeling broken.
Make a decision that you have had enough
Decide what you really do want
Find a modality that you think will work for you (affirmations, hypnosis, NLP, EFT etc. whatever you feel comfortable with)
Work a program of letting go of those negative beliefs
When those cracks in your negative belief system appear, hammer it through, so that you can realize that you always were whole, that it was there all the time…because it was…
If you are ready to let that feeling of being broken go, you can…because it is an illusion. You are not broken…in fact, you never have been…you just thought that you were. All along, under the layers and layers of protection of those negative feelings, has lain a complete and whole you.
Wholeness. It was there all the time. Even if you feel that you are broken, it is a temporary feeling, one that can pass.
In your life, you are the sculptor. You need to catch the vision of the statue, of that magnificence that lies within you. See that, even for a moment, and when you have had the opportunity to weaken that stone, through letting go of limiting beliefs…you can break free of feeling broken…just like that…
"Drive your own life…you deserve to, don't you?"  Sherie Venner 
If you enjoyed this post, feel free to sign up for my blog updates!
The following two tabs change content below.
Sherie
I am a Relationship Coach who helps others create happy, healthy, loving relationships…including the relationship they have with themselves…by breaking through those blocks and barriers to success. I use various techniques gathered through training as a Master Practitioner of NLP, timeline, hypnosis and common sense gathered through life experience.