I am no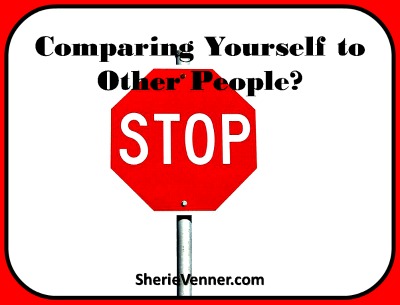 stranger to a life of comparing yourself to others.
I did this so well for many years. It doesn't work the way you think it does.
When you compare yourself to others, what do you hope to accomplish? Do you think that by doing that, you will motivate yourself to do better, to have more, to challenge yourself?
It might look like it works temporarily but it really doesn't. Because when you are stuck in the comparing yourself to others trap, you lose. You lose because inside you think that you are less than.
Using others as a measuring stick of our success is a game that you can't win. When it comes down to it, comparing yourself to others is just another way to criticize yourself. It's "Look at how great Bill is doing in his life, he has that great car, house, job, family…I'm such a loser…"
Comparing Yourself to Others Leads to Jealousy
So if you are in a family where you have the least amount of financial resources and you are comparing yourself to them…and you have a sinking feeling in the pit of your stomach that you will never catch up…do you feel happy for them?
Probably not. You probably feel jealous of their accomplishments. And in order to feel jealous of their accomplishments, there is a part of you that thinks you will never achieve it.
Because if there is jealously…you don't think you can have it…whatever it is…
When you look at someone who is better off than you, or has a great relationship when you don't, and you think "I want that. I am going to have that, too, soon", you get a different feeling. Then you are inspired by the accomplishments of the others…and that works well!
Letting Go of Comparing Yourself to Others and Being Inspired Instead
It is a subtle shift…that mindset of being inspired by other people's good fortune. When I was first doing Tae Kwon Do, I was the oldest person in the class. There were many students who were younger and fitter than me.
I felt out of place and stuck in the comparing myself with those amazing students who could kick over their head and do gravity defying jumps. I wasn't being fair to myself and I certainly wasn't being fair to them. Because it affected my relationships with them…all of that comparison crap.
I had a very wise teacher who took me aside one day when I was particularly discouraged. He told me that I was only in competition with myself. He told me that every student was in competition with themselves.
He said that I only needed to do better than I did the time before. That I only needed to work on how high I could kick…how fast I could spin…how well I could memorize the patterns and execute them. How fast and hard I could break through that board or throw that punch.
Because no matter what we do, there can always be someone better than us. I was not the best Tae Kwon Do practitioner in the world…but I was the best Tae Kwon Do practitioner that I could be…at that moment.
Yes, I strived to be excellent…and because I stopped comparing myself with others…the others who weren't me…I could enjoy the process…and that is the point, isn't it? I had to let go of all of that inner criticism and it made the entire process of getting that black belt more fun.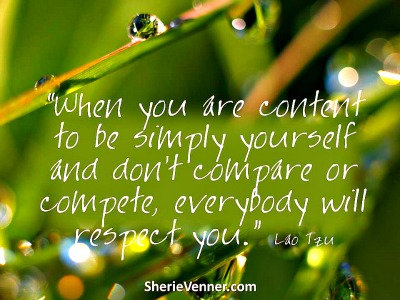 "When you are content to be simply yourself and don't compare or compete, everybody will respect you." Lao Tzu
Enjoy the Journey
When you take the time to enjoy who you are…and stop comparing yourself to others, you can enjoy this journey that we call life.
You can learn to respect yourself…and the uniqueness that is you…because you are the only one of you here on the planet. Even identical twins have their own personalities and likes and dislikes.
Self-esteem increases when you stop comparing yourself to others. When the yardstick of your life is what you decide…when you understand that you are the one who decides if you have succeeded or not…that makes all the difference.
So, set your goals based on what you want…discover what that is…and then be content to move forward…doing the best you can…with what you've got…and see where that takes you…you might be very, very surprised how much better life is when you give yourself a break…and stop comparing yourself to others…
"Drive your own life… you deserve to, don't you?" Sherie Venner
The following two tabs change content below.
Sherie
I am a Relationship Coach who helps others create happy, healthy, loving relationships…including the relationship they have with themselves…by breaking through those blocks and barriers to success. I use various techniques gathered through training as a Master Practitioner of NLP, timeline, hypnosis and common sense gathered through life experience.