A crab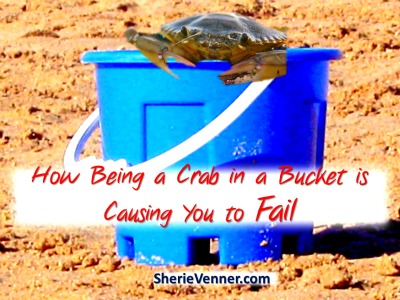 in a bucket. Now that brings up an interesting picture doesn't it?
We all want to be successful…at our careers, in our families, in our relationships…and often, we try everything to achieve that success.
We read books, we go to seminars. We invest in programs for success. We learn. Yet…often… we fail.
A Crab in a Bucket Story
There is a story. Once there was a young man on a beach, watching people catch crabs. A young man put a crab in a bucket, with a tiny bit of water on the bottom. The crab promptly scurried out of the bucket and jumped back into the ocean.
He caught another crab and put that crab in a bucket…and the same thing happened. It escaped and happily returned to the ocean. A wise old fisherman came up to the boy, and put his hand on the boy's shoulder.
A wide smile crossed his weathered, bearded face and he said, "Son, you have to put two crabs in a bucket…that way…when one tries to get out…the other will pull him back in. Then, you won't have to worry. They'll keep each other in that bucket. They'll be trapped…without you having to do anything else."
The boy thought that was crazy. Then he did it. He caught one crab and then another. He put the first crab in a bucket, and then quickly put in the second crab. He was amazed. When the first crab tried to get out, the other one pulled him back in. And when the second crab tried to get out…the first one pulled him back in.
Does any of this sound like your life? Have you had the same kind of experience?
My Crab in a Bucket Experience
I have had many experiences in my life that could be classified as "crab in a bucket" experiences. One that stands out in my mind was when I was employed in the financial services sector (a temporary blip on my life screen).
One of the requirements of the job was to purchase a life insurance policy. I casually mentioned that the policy that my boss suggested wasn't going to be any good…because I wanted to get married again and have another child.
He laughed at me. He said that I had more chance of being hit by lightning…than the chance of remarrying and having another child.
Now, I was 38 at the time, not dating anyone, had been officially divorced for a year, and had 4 children. It might have been illogical for me to have that dream…but it was my dream…
He wasn't the only one who thought I was a fool for having that dream.
I got the policy that I wanted…and a short three months later, I met Shane…we have been married now for 17 years (this June)…and have a lovely 15 year old son…because I believe that dreams are possible…and that dream was definitely in the realm of the possible, wasn't it? ; D
When the People in Your Life Don't Support Your Dreams
…they become the crab in a bucket that pulls you down…down to the level that they are comfortable with. The limiting beliefs of others can tear our dreams apart…but only if you let them.
You have a choice. You can believe them. Most people are in this bucket. They are told they can't do it…they can't have it…and here are all of the good reasons. It's subtle sometime…those saboteurs….
If you find yourself in that situation, build yourself a ladder out of the bucket. Here's how:
Change your limiting beliefs at the core
Have faith in your dreams…if someone else can achieve them, why not you?
Cherish your dreams
Get the big picture of what you want in your life…make it bigger, brighter, and bolder…
Understand that you might need to let go of some of those crab in a bucket people…if they continue to try and pull you down…and you know…they often show up when you are successful…and don't remember that they tried to keep you small.
Surround yourself with the people who have your back.
Lend a helping hand to others once you've gotten out of the bucket…
So don't let others drag you down…the dream stealers…it can cause you to fail…
You can stop being a crab in a bucket…you can be the master of your own fate…it really is a choice…and when I look at the faces of my husband and son…I am so glad that I didn't believe that dream wasn't possible…
"Drive your own life…you deserve to, don't you?" Sherie Venner
P.S. Have you had a crab in a bucket experience that you pulled yourself out of? Let me know…in the comments below!
The following two tabs change content below.
Sherie
I am a Relationship Coach who helps others create happy, healthy, loving relationships…including the relationship they have with themselves…by breaking through those blocks and barriers to success. I use various techniques gathered through training as a Master Practitioner of NLP, timeline, hypnosis and common sense gathered through life experience.