Downton Abbey.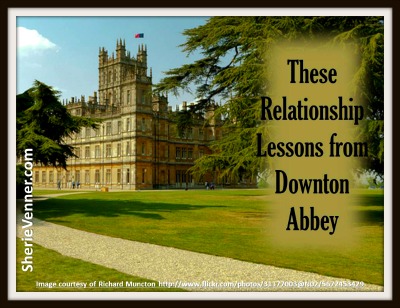 It's an amazing story…full of relationship lessons.
It was everywhere I looked!
I saw Facebook status updates about the most recent episode. It was on Twitter feeds.
I started seeing spoilers in the magazines that I read. I was curious!
Downton Abbey was populating the social media universe and the rest of the internet, too!
A good friend said that I had to watch it. She lent the DVD's of Season One and Season Two to me because, by now, Season Three was being broadcast here in Canada.
I sat down with my husband and daughters. From the first opening scene, we were hooked on Downton Abbey.
.
And the thing is, it's not because it's a beautiful period drama (and it is!). And it's not because of the wonderful acting or the exquisite setting. It's the story. It's about the relationships between these very, very interesting characters.
These 9 Downton Abbey Relationship Lessons

Warning! Spoiler alert ahead if you haven't finished Season 3!!
Nobody is perfect. What makes these people so interesting is that they are flawed. There is no illusion of perfection in how they are portrayed, from the Grantham's and Crowley's upstairs to the lovely folk downstairs.
Agreement is necessary. It was hard for Lord Grantham to relinquish control and come to an agreement with Matthew and Tom about how the estate was run. Yet, an agreement was necessary for Downton Abbey to move forward and be successful, in the future.
Stop waiting for your prince/princess to come. It was heartbreaking to see Lady Edith left at the altar. Yet, the next morning, when she said she was going down to breakfast, she was moving on with her life.
Life is full of ups and downs. The family and staff of Downton Abbey have more than their share of ups and downs, especially Mr. Bates!
It's important to listen to your gut feelings. Nowhere is this more evident than when Lady Sybil is in distress and dies in childbirth. If Lord Grantham had listened to his wife's gut feelings, there was a chance, even though it was a slim one, that she would survive.
Support your family members. Yes, they do, in the long run, at Downton Abbey.
Live in the now. I am so glad that Mary and Matthew had that one bright last moment of happiness with the birth of their baby boy…before Matthew died in that horrible car crash. It was heart breaking. None of us know how long we have, though…do we?
Be grateful for what you have and rejoice in it. I love the example of Anna Bates…how she is grateful for her life and the love she has with Bates…even when the circumstances were so terrible…
Don't keep secrets. Parts of the family of Downton Abbey were keeping secrets about Lady Mary…and that was a mistake, even in those times when a scandal like that could rip a family apart. Once they shared that secret amongst themselves, you could see the family being strengthened.
So those are some of the relationship lessons that I see in the wonderful writing and acting of the players in Downton Abbey. It is definitely one of my favourite shows, now.
How about you? Have you seen these relationship lessons or any other? Are you a fan of Downton Abbey, like I am?
"Drive your own life; you deserve to, don't you?" Sherie Venner
Image courtesy of Richard Muncton @ flickr.com
The following two tabs change content below.
Sherie
I am a Relationship Coach who helps others create happy, healthy, loving relationships…including the relationship they have with themselves…by breaking through those blocks and barriers to success. I use various techniques gathered through training as a Master Practitioner of NLP, timeline, hypnosis and common sense gathered through life experience.