Yum! It's still summer for at least a little while. While we have the wonderful abundance of summer fruits, I like to make gluten free pies, as well as eat the berries fresh! So, this week, I  made a lovely, blueberry gluten free pie!
Even if you use frozen blueberries and make this gluten free pie in the middle of the winter, it will bring back the taste and smells of summer as it is baking in your kitchen.
Which Gluten Free Pie Crust do You Use?
There are a number of ready made alternatives that are available. I know that the pastry that Kinnikinnick makes here in Edmonton works well…and there are times when it is convenient to have a ready made pie crust available to you.
What I like to do is take either of my two favorite gluten free pie crust recipes and make enough for the pie that I am currently making; then I freeze the rest of the pastry in ziploc bags.
The easiest way to do this is to roll out all of your pie crust, one at  a time, in single rounds. Then take the round (I find that if you roll it out to 2/3 the size you think you will need later works well), and gently put it in a large ziploc freezer bag. Lay it flat and freeze on a large dinner plate, for support.
So, you've picked out your pastry alternative or have made a lovely, home made gluten free pie crust. Let's get to the filling!
Fresh Blueberry Pie (Gluten Free)
For a 9 inch round pie
4 cups of fresh blueberries (frozen if you can't get fresh…it can also be a more economical choice)
1/2 cup of white granulated sugar
1/3 cup of arrowroot starch or corn starch
1 tablespoon of lemon juice (fresh or from concentrate)
Yes, you can just mix everything together and put it between two crusts, bake and then you have a pie. This method takes a bit longer but it gives you a more even result that thickens and doesn't run when you cut into it!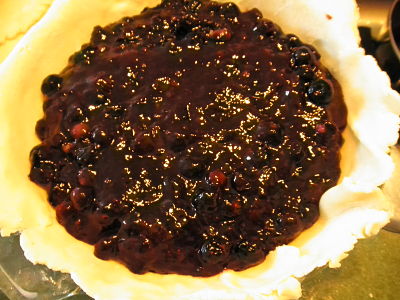 In a medium sized saucepan, put the blueberries, fresh or frozen, white granulated sugar and arrowroot starch or corn starch. Add the lemon juice and stir well. Over medium heat, cook blueberries into the mixture is thickened to the consistency of a pudding. Cool for 15 minutes.
Put the cooled blueberry pie filling into a rolled bottom pie crust. I like a glass pie plate. Dot the blueberry pie filling with 3 tablespoons of soft butter. Cover with another rolled out gluten free pie crust. Crimp pie crust on the edges or flute. Using a knife, put 5 or 6 slashes in the top crust, to let steam out.
Preheat oven to 425 degrees Fahrenheit. Put the gluten free blueberry pie in for 15 minutes, then turn the temperature of the oven down to 375 degrees Fahrenheit. Continue baking until the filling begins to bubble. This should take about 25 to 35 minutes. Keep an eye on the crust to make sure that the edges aren't browning too fast. If they are, you can cover the edges with foil strips.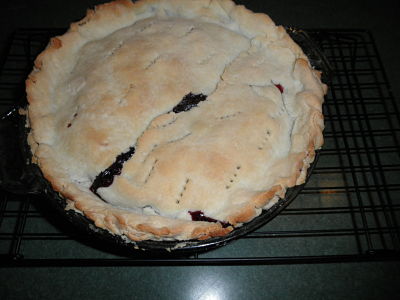 There you have it! A delicious easy way to enjoy some of the abundance of the summer! A gluten free blueberry pie!
The following two tabs change content below.
Sherie
Sherie writes about relationships, relationship anxiety and eating gluten free. She has been gluten free for more than 10 years. Connect with Sherie on
Google+