Here is a second gluten free banana muffin recipe because you can never have too many, right? Because this one is a quick recipe that can be thrown into a blender and then baked quickly, it is one of my favorite recipes.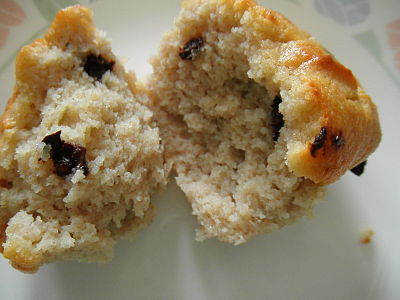 Coconut flour is high in protein and high in fiber, as well as being naturally gluten free. Both of these nutritional factors are often missing in our rice based flour gluten free mixes, so this is a welcome change. If you like, you can omit the chocolate chips or substitute nuts. It all depends on what you want. And you can put both in, too!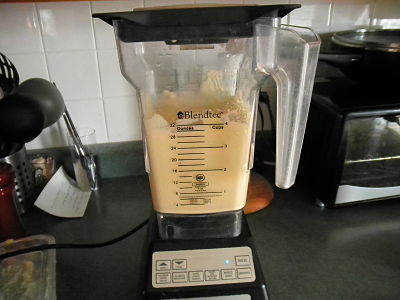 I don't know about you but I like to throw these coconut flour recipes into the blender. It is a quick and easy way to get a gluten free muffin out fast and if you have a great blender (like I do!), it is amazingly fast to clean up as well.
Gluten Free Coconut Flour Chocolate Chip Banana Muffin Recipe
6 eggs (I always use extra large eggs but large eggs will work well)
1/4 cup of coconut oil, butter, or a combination of both
1/2 cup of sugar (white)
2 small ripe mashed bananas (I just threw mine whole, peeled, into the blender)
1/4 tsp of iodized or sea salt
1 tsp gluten free baking powder
1/2 cup of gluten free chocolate chips (optional)
1/2 cup of pecans or other nuts (optional)
1/2 cup of coconut flour
These muffins do not need to be made in a blender. In fact, if you prefer to use a bowl and mixer, just melt the coconut oil first.
Start with the 6 large eggs first. Put them in the blender. Add the coconut oil, butter or combination of both. I prefer using coconut oil because of the benefit of the fatty acids in it. It also tastes great!
Add the sugar and the ripe mashed bananas. Don't use bananas that are too large, I found that two medium is the right number. If you freeze your over ripe bananas to use for later, make sure that you have thawed them before using.
Add the salt, regular iodized or sea salt and the baking powder. Blend until the batter is smooth. If using a mixer, mix until smooth and the batter is not lumpy. Make sure to not over mix.
If you want the added deliciousness of chocolate or nuts or both, add after the batter is ready. Spoon into twelve paper muffin cups in a twelve cup muffin pan.
Bake in a preheated 350 degree Fahrenheit oven for approximately 20-30 minutes, depending on how full your muffin cups are. Test with a wooden toothpick or cake tester at the 20 minute mark, then add time to your baking accordingly.
Here is what they look like when they are done, in the pan!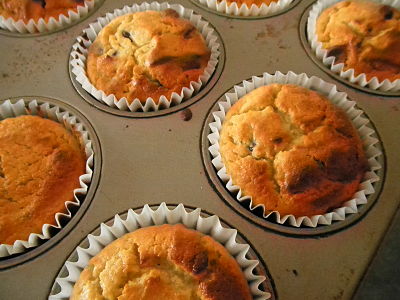 These don't last long around our house. They make a nutritious gluten free breakfast because the coconut flour, oil and eggs have great effects on keeping hunger at bay! It must be all that extra protein and fiber!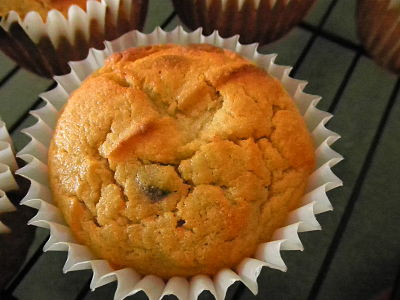 Cool on a rack after you take them out of the oven and if there any left, these gluten free coconut flour chocolate chip banana muffins freeze well!!
The following two tabs change content below.
Sherie
Sherie writes about relationships, relationship anxiety and eating gluten free. She has been gluten free for more than 10 years. Connect with Sherie on
Google+