Pumpkin is one of my favorite fall vegetables. Not only is it a funky orange color that tells of its rich source of antioxidants, it tastes great! Especially when pumpkin is made into pies and my favorite gluten free pumpkin loaf!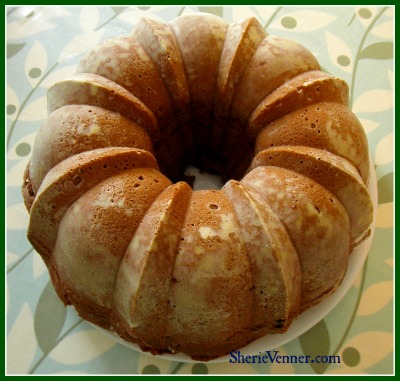 As a person who has either celiac disease or a measure of gluten sensitivity, it is even more important to ensure that we get vitamins and minerals in our food. Pumpkin has lots of vitamin A, carotenoids, vitamins C, K, E and various minerals, such as iron, potassium, and magnesium! Pumpkin rocks!
Pumpkin is also a great source of fiber with 3.5 grams of fiber in half a cup of canned pumpkin!
This is a time tested recipe in our family. Usually, I make this into 2 gluten free pumpkin loaves but as you can see from the picture, I cooked it in a bundt pan, this time. That works, too, it just takes longer to cook.
Spiced Gluten Free Pumpkin Loaf Recipe
2/3 cup of shortening, butter, coconut oil, or a combination of fats
2 2/3 cups of white granulated sugar
4 extra large eggs
16 ounces of pumpkin, either canned or cooked from fresh
2/3 cup of water (you can also use rice milk, milk, almond milk if you want to)
3 1/3 cups of all purpose gluten free mix (purchased or make your own)
2 teaspoons baking soda
1 1/2 teaspoons of salt, either iodized or sea salt
1 1/2 teaspoon of gluten free baking powder
1 teaspoon of cinnamon
1 teaspoon of cloves
2/3 cup of chopped nuts (optional)
2/3 cup of raisins
Preheat your oven to 350 degrees Fahrenheit. If you decide to use loaf pans, grease 2 medium sized loaf pans. If you decide to use a bundt pan, like I did, grease and flour your bundt pan, first.
In a large bowl, cream the shortening (or combination of fats) with the white, granulated sugar. Add the eggs, one at a time, beating after the addition of each.
Add the cooked pumpkin and the water (or selection of milks). Combine.
In a medium sized bowl, mix the all purpose gluten free flour, baking soda, salt, gluten free baking powder, cinnamon and cloves. Mix well. Then gradually add the dry mix to the wet ingredients. Stir until everything is mixed well.
Then, add in the optional nuts and raisins. Mix.
Pour into your prepared pans, smoothing down the top of the batter after it is in the pans. Bake for approximately 70 minutes. As your oven temperature will be different from mine, you will need to test with a toothpick or cake tester to make sure that the loaf is cooked. If the tester comes out clean and the loaf feels springy to the touch, it should be done!
Take advantage of the goodness of pumpkin and the healthy benefits, all year round. Your body will thank you!
The following two tabs change content below.
Sherie
Sherie writes about relationships, relationship anxiety and eating gluten free. She has been gluten free for more than 10 years. Connect with Sherie on
Google+